by Anna Kourouniotis
My focus for the HEUG Alliance Conference 2022 was on DATA (how surprising, right?), specifically how to effectively visualize it and also how to prepare and "mine" the data. Data mining is a process of discovery, uncovering patterns in large data sets. Another more advanced part of this process is analyzing data to predict outcomes, which usually entails machine learning. While I did not learn complex data mining techniques, I did get to explore the data mining possibilities with MS Excel. For intermediate to advanced query viewers who are responsible for preparing/editing data as well as visualizing it, Excel can be a powerful tool. Excel also has these cool things called Macros (based on Visual Basic programming code), which I have developed in the past. I attended this one session that dove deeper in the "delightful development" of macros. I highly recommend learning the basics on Macros in Excel for those who have repeatable processes, i.e. needing to edit in Excel in 10 different ways and do this multiple times a term or year. It will make your life a whole lot easier. Also, check out Excel's built-in Power Query, which offers several ways to create, load, and edit a query in Excel. You don't need to go to the lengths of trying to apply complex calculations/expressions in PS Query Manager or to use MS Access or BI Publisher. Sometimes, if the data you are working with requires editing outside of PS Query, then Excel Power Query will do the trick! For example, I use it frequently when needing to transpose rows to columns or columns to rows or to pivot non-numeric data.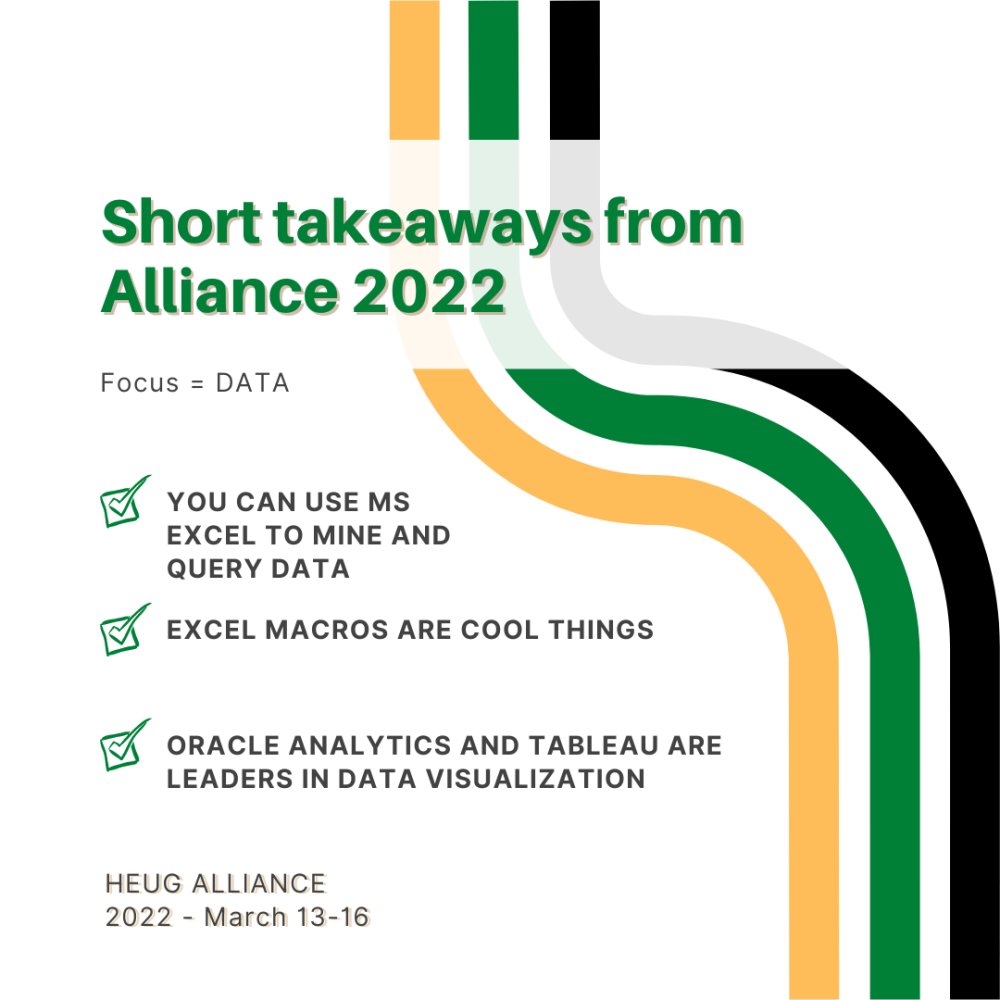 Other insightful sessions illustrated Oracle Analytics Cloud and Project Analytics using OBIA Dashboards. I currently use BI Publisher for transactional and operational-level reporting as well as Tableau Desktop for operational. Learning about Oracle toolsets for analytics game me a high level comparison among two different data visualization options. Both Oracle Analytics and Tableau offer a) self-service data visualization for business users, without IT support, b) prebuilt, customizable dashboards, c) role-based security, and d) bring multiple data sources into one central location. There are many things that influence the purchase of an analytics product, including pricing, technical support, scalability, collaborative features, and flexibility. Implementing a new analytics tool is extremely time consuming and expensive and decision makers must do all the necessary checks and balances before committing because they may be "stuck" with that decision for a long time.